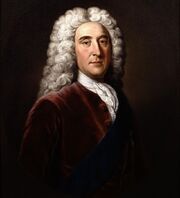 The 
First Newcastle ministry
(formerly commonly referred to as the 
Newcastle-Grey ministry
) was a British government which served from 1749 onwards, at the height of the return to the West Indies. It was headed by the
Duke of Newcastle
, who was serving in his second term as Prime Minister. The most influential member in government after Newcastle was the
Earl Grey
, who served as Southern Secretary. 
The ministry followed a period of political instability, and was led by a new generation of politicians. Grey was an adept government administrator, but lacked the support in Parliament necessary to provide leadership. Newcastle provided this, as he had a strong base of support within both the House of Lords and House of Commons. 
Tasks where divided between them, and most government policy essentially came out of meetings between Newcastle and Grey until 1750, when both the Earl of Portsmouth and Earl of Lincoln gained large influence within the Government. 
Lincoln would eventually be forced out by Granville, Grey, and Portsmouth later that year, and by 1751 Lord Grey and Lord Huntington were the two most influential members of the British Cabinet. 
In October 1751, Newcastle retreated to the English countryside and had intended on resigning after many heated disagreements between himself and most notably Lord Grey, and Beckett, with other cabinet members being unable to effectively serve in their positions. In absence of Newcastle, Grey and Beckett assumed control of the British government. Newcastle was then called back upon hearing how poorly the his ministers had ran the government in his stead. Grey, Beckett, Spencer, and Granville resigned the day Newcastle returned from being MIA. Later Portsmouth handed in his resignation effectively ending the two year long government.
The Ministry
Office
Name
Term

First Lord of the Treasury

Commander-in-Chief of the Forces

The Duke of Newcastle
1745 -

Lord High Chancellor

Second Lord of the Treasury

The Earl Granville
1745 - 

Lord Privy Seal

Keeper of the Rolls and Records

1747 -

1747 -                                 

Secretary of the State for the Southern Department

Leader of the House of Lords

The Earl Grey

1749 - 1751

1747 - 1751

Secretary of the State for the Northern Department

Master-General of the Ordnance

The Earl of Portsmouth

1750 - 1751

1745 - 1751

Secretary at War
1742 - 1751

First Lord of the Admiralty

Leader of the House of Commons

Sir Maxamillion Phillip Beckett

1750 - 1751

1750 - 1751

Master-General of the Ordnance
The Earl of Salisbury
1751 -
Chancellor of the Exchequer
The Earl Spencer
1751 - 1751

Lord President of the Council

Sir Maxamillion Phillip Beckett
1751 - 1751

1751 -

Paymaster of the Forces

1747 - 1750
Portraits
See Also